Outsourced Payroll Services for UK Businesses
What can you expect by Outsourcing your Payroll to AGS Payroll Services?
We provide the complete payroll service to UK businesses & organizations and, with over 30 years in the payroll industry, you can expect a quality, professional and fast service. Select your particular payroll service & we will take care of it for you.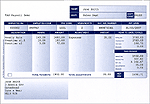 Payslips will be sent to you in time for each pay day together with your Payroll Analysis reports. We produce weekly, 2-weekly, 4-weekly or monthly reports and payslips for each employee which show all earnings and deductions.
Payroll Services
AGS Payroll provides the following payroll services for its clients.
We will register with HM Revenue & Customs as your Payroll Agent. This means we will be able to deal with most of the data that passes between you & HMRC.
We can calculate Statutory Sick Pay (SSP) Statutory Maternity/Paternity Pay (SMP/SPP) Pension Pay and Student Loan deductions. Issue P45's where appropriate.
We will calculate and complete the monthly Tax and National Insurance deductions (P32) and send it to you with your payroll when payment is due.
We will produce End of Year returns and file them online. Produce P60 statements for each employee.
Payslips & Payroll Reports
Here are some of the key elements that we offer clients who sign up for our Payroll service:
Detailed Pay-slips
Inland Revenue data exchange
Employee Payroll Records
Weekly/Monthly Payroll Summary reports
Bacs Reports for wage bank transfers to staff
Coinage Analysis Report for cash payments
Calculation of employee monthly Tax/National Insurance (NI) payments due to HM Revenue & Customs
Statutory Sick Pay and Maternity Reports
Payroll Calculations
AGS can offer clients the following standard items:
Paye deductions
National Insurance Deductions
Statutory Sick Pay & Statutory Maternity Pay
Pension Payment
Student Loans
You May Also Be Interested In:
Get In Touch With AGS Payroll – Today!